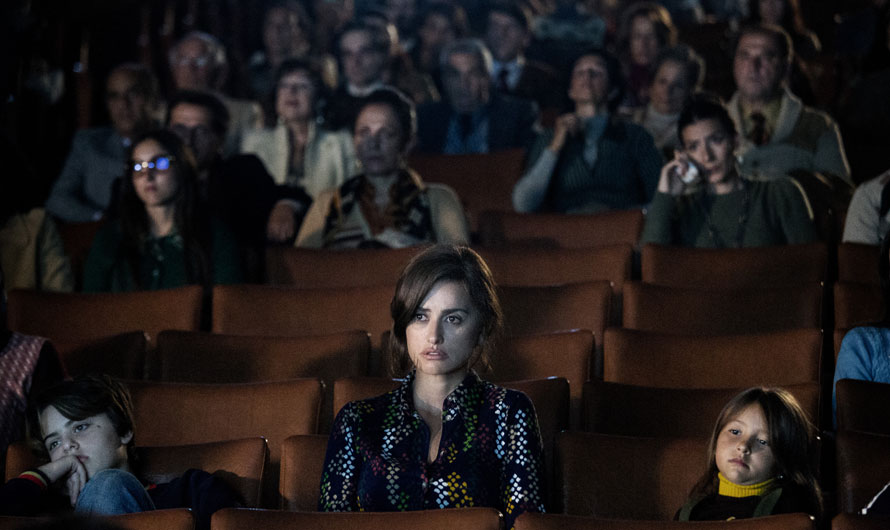 Film tips from film programmer David Benedek
1946: The Mistranslation That Shifted Culture (directed by Sharon Roggio)
A feature documentary that follows the story of tireless researchers who trace the origins of the anti-gay movement among Christians to a grave mistranslation of the Bible in 1946. It chronicles the discovery of never-before-seen archives at Yale University which unveil astonishing new revelations, and casts significant doubt on any biblical basis for LGBTQIA+ prejudice. Featuring commentary from prominent scholars as well as opposing pastors, including the personal stories of the film's creators, 1946 is at once challenging, enlightening, and inspiring. While other documentaries have been successful in their attempt to treat the symptom of homophobia in the church, 1946 is working to diagnose and treat the disease –Biblical Literalism.
L'immensità (directed by Emanuele Crialese)
Rome, 1970s: a world which straddles new neighbourhoods being created, TV variety shows still in black & white, societal advances and family models that now seem outdated. Clara and Felice have just moved into a new apartment. Their marriage has reached a point of no return: they no longer love each other, but they can't seem to leave each other either. Their children are the only thing that keeps them together, the same children that are the syphon for all of Clara's dreams of freedom. Adriana, the eldest, has just turned twelve; Clara's mood swings and the growing tensions between her parents play out before her watchful gaze. Adriana is in a state of refusal of her name and her identity, and her dogged pursuit of trying to convince everyone that she is a boy brings the already fragile stability of her family to breaking point.
Starring Penélope Cruz.
The film was screened at the Venice Film Festival.
Blue Jean (directed by Georgia Oakley)
In the homophobic, Thatcher-era Britain of the 1980s, an out phys-ed teacher stands at a crossroads in her life. The path she takes could be steered by the determination of the new generation, but first she has to find the courage in herself.
The film was nominated for the BAFTA Award for Outstanding Debut.
Mutt (directed by Vuk Lungulov-Klotz)
Feña, a young trans guy, is faced with an increasingly challenging day. Over 24 hours, his father, his straight ex-boyfriend, and his 13-year-old half-sister are thrust back into his life. Having lost touch with them since transitioning, Feña must navigate the new dynamics of these old relationships while tackling the day-to-day challenges that come with living a life in between.
The film was screened at the Berlinale and Sundance in 2023.
Sisi & I (Sisi & Ich, directed by Frauke Finsterwalder)
Sisi has reached the last half of her life. Countess Irma finds her in an aristocratic women-only commune in Greece, a whole universe away from the strict etiquette of Austria-Hungary's court. Sisi lives in absolute freedom, in which neither her children nor her husband Emperor Franz Joseph play any sort of role. The only important thing is that no one should ever be bored and that the empress herself decides the rules of the game. Irma is captivated by the charismatic Sisi and her modern ideas. But the outside world is reaching out to break Sisi. And no matter how much Irma and Sisi resist, in the end they are left with only one fatal path that will bind the two women together forever.
The film was screened at the 2023 Berlinale.
Femme (directed by Sam H. Freeman and Ng Choon Ping)
Jules's life and career as a drag queen is destroyed by a homophobic attack. But when he re-encounters his attacker, the deeply closeted Preston, in a gay sauna, he is presented with a chance to exact revenge. Unrecognisable out of his wig and make-up, Jules infiltrates Preston's life, and in doing so, discovers power in a different kind of drag.
The film was screened at the 2023 Berlinale.
Queendom (directed by Agniia Galdanova)
Gena, an artist from a small town in Russia, dresses in otherworldly costumes and protests on the streets of Moscow. She stages radical performances in public, which becomes a new form of art and activism and puts her life in danger.
The film was screened at the 2023 Outfest LA.
Tár (directed by Todd Field)
Oscar-winning actress Cate Blanchett shines in the titular role of Lydia Tár, one of the world's most famous conductors. Tár is a powerful character study of someone who realizes that conducting a huge orchestra can, paradoxically, be much simpler than conducting one's own life. Conductor Lydia Tár is at the height of her creative powers. She is in her seventh year of conducting a prestigious German orchestra, planning to publish a book, and preparing a performance of Mahler's Fifth Symphony that is expected to be the peak of this concert season. Lydia comes across as confident, self-assure, dominant and powerful. But under this seemingly solid mask hides an ordinary human being, complete with fears, insecurities, desires and needs. With her conductor's baton in hand, Lydia stands by her every decision, but when she leaves the orchestra stage, she often feels the earth start to shake beneath her feet. Sometimes just slightly, but at other times downright fatefully.
The film was nominated for six Oscars.
Three Nights a Week (Trois nuits par semaine, directed by Florent Gouëlou)
Baptiste is in a relationship with Samia when he first meets Cookie Kunty, a young drag queen from the Parisian scene who immediately mesmerizes him. Initially motivated by the idea of a photography project revolving around Cookie, he immerses himself into this world, eventually embarking upon a relationship with Quentin, the young man behind the drag queen.
The film was screened at the 2022 Venice Film Festival.
Marinette (directed by Virginie Verrier)
The biopic of Marinette Pichon, the first female French footballer to make it into the American women's league.
The film was screened at the Tribeca Film Festival.